Wandering Egg and Tibetan flag way in Norway
7.9. - 27.9.2010, Sognefellhytta und Lom, Norway
(diesen Text in Deutsch lesen)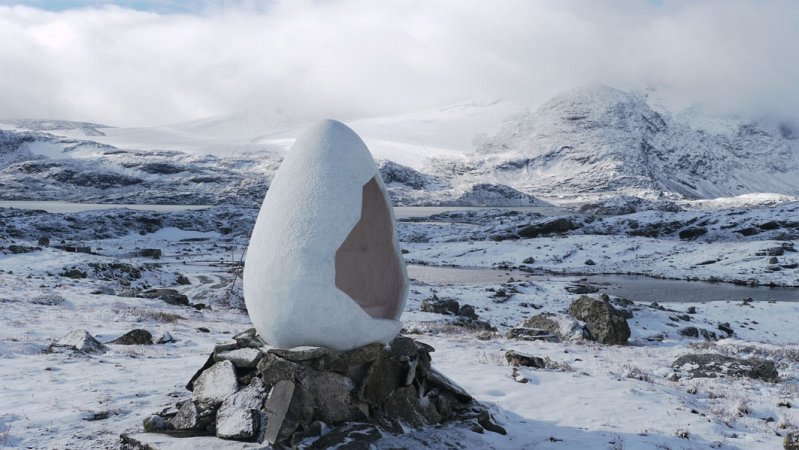 I have been working for many years in a certain kind of landart. The essential idea of my work is to get in contact with the individuality of a landscape, to learn to understand its voice and to get inspired through it by transforming special places. One idea is to increase the individuality of the landscape and to make the spirit of certain places more visible, more obvious for the visitor.
For quite a long time our work had its place on a biological farm; and over the years it brought out a network of paths leading through forest, pastures and fields, passing crafted places and installations. Places of meditation and silence came into being; places of more conscious perception of landscape, of what is surrounding us and where we are at home.
Not so long ago we began to build different movable objects (heaven ladders, the wandering egg, Tibetan flag way), which stand in dialog with the landscape. Strong almost archetypical symbols accentuate the landscape, containing elements of development, connection of heaven and earth, seeking to make more visible what is invisible.
For example The Egg wandered from a small river to the big river Elbe and further on to the Northern Sea; The Tibetan flag way, at first situated amidst the farmland, was transformed into the Marschacht Field Church at the riverside of the Elbe in the middle of wide snowfields.
After its stay at the seaside, the next step of the Wandering of the Egg was a position exposed as near as possible to heaven and clouds, in absolute loneliness, amongst rocks and ice. Tibetan Flag Way and Wandering Egg came together for a joint installation.
Different contacts encouraged us to realize that Projekt in Norway, about half way between Oslo and Trondheim.
From 5. to 26. September 2010 it was realized